2015 Formula Virtual season
Page last edited 702 days 5 hours ago
From F1 Fanatic Wiki
Jump to navigation
Jump to search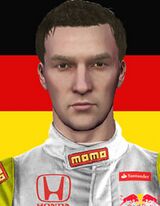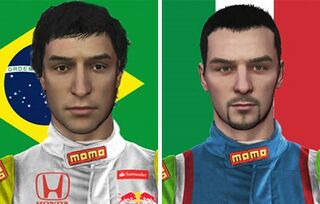 The 2015 Formula Virtual season was the third season of the Formula Virtual World Championship - but the first under it's new name after Formula Virtual World Championship replaced F1F Virtual Grand Prix Championship. The series is a virtual motor racing championship run by Nic Morley for members of the F1 Fanatic website and is recognised by the Formula Virtual Association (FVA) governing body as the highest class of competition for virtual motor racing. Twenty-seven drivers representing twelve teams started the season which comprised of sixteen V-Prix's, though only elven teams ended the season after Lucas withdrew following the Spanish V-Prix. The competition for the World Drivers' and World Constructors' Championships started in Australia on 2 September 2015 and ended in Japan on 24 April 2016.
Enrique Ruiz started the season as the reigning World Drivers' Champion having secured his first title in the final race of 2014 in Mexico, while his team Franklin began the season as the reigning double World Constructors' Champions after successfully defending their 2013 title at the 2014 Japanese Grand Prix.
The regulations featured a number of significant changes as the series moves into a new era, one powered by V12 engines, with the cars looking considerably different to previous years. The calendar also featured a number of revisions as Argentina, South Africa and Netherlands were added while Austria and Bahrain lost their rounds. The rounds in Spain and France also both moved venues for the season. The Argentine and Dutch V-Prix's were later subject to circuit problems resulting in both being cancelled until 2016.
Elroy Wagner secured his first Drivers' Championship title at the penultimate V-Prix in China after beating team mate and reigning Champion Ruiz to the final podium position, with the final gap being 31 points. Ruiz's title defence was wrecked early on in the season with mechanical misfortune and errors. Enzo Domenicalli - who won his and his Rossi teams first ever race at the 2015 Spanish V-Prix - was third, another 26 points behind.
Franklin won their third consecutive Constructors' Championship at the 2015 Mexican V-Prix, with closest competitors Rossi 127 points behind in second. Liverpool were a further 37 points back in third place.
Teams and drivers
The following teams and drivers competed in the third season of the Formula Virtual World Championship.
Team
Constructor
Chassis
Engine
Tyre
No.
Race Drivers
Rounds
No.
Reserve Driver(s)
Franklin Honda
Franklin-Honda
JF-03
Honda VA1215E

M

1
Enrique Ruiz
All
18
Luke Stokey
2
Elroy Wagner
All
Liverpool V-Prix Racing
Liverpool-Downton
RJM-003
Downton VXR-2015 [N 1]
Downton DS-2015

M

21
Karl Beckenbauer
1–7, 11
20
Jamie Gerrard
Kip Maxwell
8–10, 12–16
22
Adrien Simon
All
Downton FV Team
Downton
BD03
Downton DS-2015

F

13
Marcus Thunder
All
17
Kip Maxwell
14
Nathaniel Powers
1–14
Will Hoskins
15–16
Scuderia Rossi
Rossi-Ferrari
SR-03
Ferrari 058

M

7
Puccio Giodano
All
9
Jonas Phipps
8
Enzo Domenicalli
All
Ingram Grand Prix
Ingram-Honda
IGP Eagle
Honda VA1215E

M

37
Nikolai Milkovich
All
39
Diego Campos
38
Jean Mattson
All
Meteor International FV Team
Meteor-Peugeot
MM15
Peugeot PM-002015

M

5
Stuart Harrison
All
44
Ezequiel Tanner
Johan Halvosen
6
Arden Hutchinson
1–4, 8–10
Scott Parsons
5–7
Johan Halvosen
11–16
Finland's Ultimate Nordic FV Team
FUN-Yamaha
FFV/3
Yamaha YFV/E15

M

3
Romano Agostino
All
34
Giani Ledesma
4
Carson Davenport
All
Marvel Lucas Grand Prix
Lucas-Peugeot
LW-3GP
Peugeot PM-002015

M

15
Lewis Ellington
1–5
31
Jacinto van Slooten
16
Emma Wilson
1–5
Westwood Racing
Westwood
WR03
Westwood Type 1412VNA

F

69
Will Hoskins
1–14
98
Kip Maxwell
Nathaniel Powers
15–16
70
Tumo Kinnumen
All
Vodafone Warrior Racing
Warrior-Mercedes
WAR-15
Mercedes FV 1215A

F

25
James Harding
All
77
Michal Kubat
Ivan Lesic
26
Abel Osterhagen
1–11
Karl Beckenbauer
12–16
AMR Autosport
AMR
AMR-FV-1
AMR APUXX15

M

91
Felix Beyer
All
93
Gerard Alaniz
92
Hiroto Nakumaya
All
Ocelot Japan Racing
Ocelot-Downton
TK-81
Downton DS-2015

F

81
Scott Parsons
1, 10
24
Felipe Cesar
Judson Sikes
2–9, 11–16
82
Hugh Dwyer
1–7, 9–16
Scott Parsons
8
[N 1] Liverpool started the season with Downton engines tuned by Vauxhall, however the contract was terminated with immediate effect following the French V-Prix, with the team using the DS tuned Downton engines from the British V-Prix onwards.
Teams changes
Driver changes
Mid-season changes
On 10th April 2015 it was announced FUN reserve driver Hugh Dwyer would race for new team Ocelot in the season opening Australian V-Prix in place of signed driver Judson Sikes. The deal was believed to be for one race only, with the team citing it wanted the extra experience Dwyer would bring for their first race, however he has remained in the car ever since. Prior to the Malaysian V-Prix it was announced Sikes would take over the second seat from Scott Parsons. For the British V-Prix it was announced Parsons would take over in the number 82 car from Dwyer, before the Canadian returned for his home round, while Parsons replaced Sikes at the United States V-Prix before the Russian returned for Germany.
Following a takeover of the team, Meteor announced Arden Hutchinson would be losing his seat for at least two races as the team sought an experienced driver. It was later confirmed they had agreed a deal with Ocelot for Scott Parsons. This deal lasted three races before Hutchinson returned to race duties at the British V-Prix and Parsons returned to Ocelot. Tensions later developed between Hutchinson and the team following the Austrian's impending move to FIRST in 2016 - and published comments - with Meteor announced they would mutually part company following the United States V-Prix. As a result Johan Halvosen made an early début for the team at the German V-Prix.
Lucas did not enter a strategy in time for the Portuguese V-Prix, and were therefore not entered. To date, they have not been entered to any V-Prix's after.
Calendar
| Round | V-Prix | Circuit | Date |
| --- | --- | --- | --- |
| 1 | Australian V-Prix | Melbourne Grand Prix Circuit, Melbourne | 2 September 2015 |
| 2 | Malaysian V-Prix | Sepang International Circuit, Kuala Lumpur | 27 September 2015 |
| 3 | Brazilian V-Prix | Autódromo José Carlos Pace, São Paulo | 4 October 2015 |
| 4 | South African V-Prix | Kyalami Grand Prix Circuit, Midrand | 23 October 2015 |
| 5 | Spanish V-Prix | Circuito Permanente de Jerez, Jerez de la Frontera | 12 November 2015 |
| 6 | Portuguese V-Prix | Autodromo do Estoril, Estoril | 10 December 2015 |
| 7 | French V-Prix | Circuit Paul Ricard, Le Castellet | 2 January 2016 |
| 8 | British V-Prix | Silverstone Circuit, Silverstone | 10 January 2016 |
| 9 | Canadian V-Prix | Circuit Gilles Villeneuve, Montreal | 17 January 2016 |
| 10 | United States V-Prix | Indianapolis Motor Speedway, Indianapolis | 31 January 2016 |
| 11 | German V-Prix | Hockenheimring, Hockenheim | 7 February 2016 |
| 12 | Belgian V-Prix | Circuit de Spa-Francorchamps, Francorchamps | 25 March 2016 |
| 13 | Italian V-Prix | Autodromo Nazionale Monza, Monza | 2 April 2016 |
| 14 | Mexican V-Prix | Autódromo Hermanos Rodríguez, Mexico City | 10 April 2016 |
| 15 | Chinese V-Prix | Shanghai International Circuit, Shanghai | 17 April 2016 |
| 16 | Japanese V-Prix | Fuji Speedway, Oyama | 24 April 2016 |
Calendar changes
Argentina, South Africa and Netherlands joined the calendar for the first time in 2015, on the Buenos Aires, Kyalami and Zandvoort circuits respectively.
The Spanish and French V-Prix's both changed venue. Respectively these were; Barcelona to Jerez, and Magny-Cours to Paul Ricard.
Mid-season changes
The Buenos Aires circuit in Argentina encountered bugs when tested, so was pushed back from round four to round fifteen, just before the Mexican V-Prix. This became round fourteen when a similar fate befell the Dutch V-Prix, which was cancelled and pushed back to 2016, although Argentina was later cancelled too.
The United States V-Prix was due to switch from Indianapolis to Detroit, however the street circuit was deemed to not be up to standards, and as a result Indianapolis hosted the race. Likewise the German V-Prix was set to move from Hockenheim to Nurburgring, but the deal fell through and FV returned to Hockenheim, albeit the newer version of the circuit.
Rule changes
Development points
Additional development points will be awarded to teams who keep their drivers on for consecutive seasons. Teams are awarded 1.2 development points per driver kept on per season, however these cannot be just any drivers. To be eligible for the points drivers must have competed in at least sixteen races of the previous season (ie 2014), and must stay with the same team for at least one round of the following season (ie 2015).
Name change
On 6 October 2014 Nic Morley announced the series' name would change slightly for the 2015 season. This was changed from F1F Virtual Grand Prix Championship (or VGPC for short) to Formula Virtual World Championship (or Formula Virtual, Formula V or FV for short). A new logo was also unveiled at the same time. Shortly afterwards it was confirmed that the names of races would change to accompany the series name change. They would go from being 'Grand Prix' to 'V-Prix'.
Game change
Having been run on 'F1 Challenge' for 2013 and 2014, the series will switch to 'rFactor 2' for 2015 onwards. This will produce better graphics, better racing, new skill areas (aggression, starts, crash and composure), and also slightly different car designs.
Driver improvement points
With a change in game the way the driver and team points works has been altered. Before, a lower number was better (0.1 being best) and a higher number worse, but that will reverse for 2015, with 100% being best. This will be split 50-50 between car and driver. Some small changes in driver improvements points at the season end have been confirmed as well.
Previously it worked like:
24 and under: -0.2
28 and under: -0.1
32 and under: N/A
36 and under: +0.1
40 and under: +0.2
44 and under: +0.3
Added to each ability area.
Drivers champion: -0.1
Race winner: -0.3
Pole winner: -0.3
Rain winner: -0.3
Top 10 in WDC: -0.2
Added to the appropriate ability area.
But from 2015 it will be:
28 and under: +2%
32 and under: +1%
36 and under: +0%
40 and under: -1%
44 and under: -2%
Drivers champion: +2%
Top 10 in WDC: +2%
Added to each ability area.
Race winner: +3%
Pole winner: +3%
Rain winner: +3%
Added to the appropriate ability area.
Finances
Following the changes for season two, the end of season prize money will undergo further revisions for 2015, however both Drivers and Constructors will change this time. The prize money for 2015 onwards will be as follows;
Constructors
1st: £40m
2nd: £37m
3rd: £34m
4th: £31m
5th: £29m
6th: £27m
7th: £25m
8th: £24m
9th: £23m
10th: £22m
11th: £21m
12th: £20m
Drivers
1st: £14,000,000
2nd: £13,000,000
3rd: £12,000,000
4th: £10,000,000
5th: £9,000,000
6th: £8,000,000
7th: £7,000,000
8th: £6,500,000
9th: £6,000,000
10th: £5,500,000
11th: £5,000,000
12th: £4,500,000
13th: £4,000,000
14th: £3,500,000
15th: £3,000,000
16th: £2,500,000
17th: £2,000,000
18th: £1,700,000
19th: £1,500,000
20th: £1,250,000
21st: £1,000,000
22nd: £750,000
23rd: £600,000
24th and below: £500,000
Tyres
For the series' first two seasons Bridgestone were the sole tyre supplier, however from 2015 onwards Michelin and Firestone will take over the supply, with teams choosing whichever they prefer.
Young Driver Test
The Young Driver Test that first took place in 2014 will return in 2015, this time running in Fuji after the season ending Japanese V-Prix.
Results and standings
V-Prix's
Drivers' standings
Points are awarded to the top ten classified finishers using the following structure:
| | | | | | | | | | | |
| --- | --- | --- | --- | --- | --- | --- | --- | --- | --- | --- |
| Position |  1st  |  2nd  |  3rd  |  4th  |  5th  |  6th  |  7th  |  8th  |  9th  |  10th  |
| Points | 25 | 18 | 15 | 12 | 10 | 8 | 6 | 4 | 2 | 1 |
Key
Colour
Result
Gold
Winner
Silver
2nd place
Bronze
3rd place
Green
Points finish
Blue
Non-points finish
Purple
Classified retirement
Did not finish (Ret)
Red
Did not qualify (DNQ)
Black
Disqualified (DSQ)
White
Did not start (DNS)
Race cancelled (C)
Light blue
Practiced only (PO)
Test driver (TD)
Blank
Excluded (EX)
Withdrawn (WD)
Did not participate
Constructors' standings
Pos.
Constructor
Car
No.
AUS

MAL

BRA

RSA

ESP

POR

FRA

GBR

CAN

USA

GER

BEL

ITA

MEX

CHN

JPN

Points
1
Franklin-Honda
1
Ret
Ret
10
19
Ret
1
7
1
1
Ret
1
1
1
1
4
3
450
2
1
1
5
2
2
2
2
3
Ret
1
Ret
2
Ret
2
3
2
2
Rossi-Ferrari
7
15
3
3
4
Ret
11
1
Ret
3
2
6
Ret
Ret
4
5
5
323
8
3
5
6
3
1
6
4
2
2
3
5
7
3
6
Ret
Ret
3
Liverpool-Downton
21
4
2
4
1
Ret
3
Ret
7
5
5
12
5
5
Ret
8
Ret
286
22
2
4
7
7
3
4
3
4
6
7
2
Ret
4
7
6
12
4
Westwood
69
Ret
8
NC
13
8
7
10
NC
4
9
3
4
2
5
2
6
213
70
6
Ret
9
8
7
12
9
16
11
10
Ret
3
Ret
3
1
1
5
Downton
13
11
10
1
6
6
9
6
5
7
4
Ret
6
7
9
Ret
8
163
14
12
Ret
2
Ret
14
5
8
8
10
6
4
8
Ret
10
10
15
6
Ingram-Honda
37
Ret
7
Ret
5
Ret
Ret
5
9
9
13
9
10
6
Ret
Ret
14
93
38
Ret
6
14
9
Ret
8
11
6
8
8
8
9
Ret
8
7
7
7
AMR
91
Ret
9
11
12
5
Ret
Ret
10
Ret
11
Ret
11
8
11
9
4
56
92
7
11
8
16
4
Ret
12
11
12
14
Ret
12
9
12
11
10
8
Meteor-Peugeot
5
Ret
Ret
12
11
Ret
Ret
15
14
Ret
16
Ret
14
13
Ret
Ret
16
21
6
5
12
13
10
11
10
Ret
12
13
17
7
15
10
13
Ret
9
9
FUN-Yamaha
3
9
15
15
Ret
Ret
Ret
13
13
14
12
Ret
13
12
Ret
Ret
11
6
4
8
13
16
Ret
13
13
14
Ret
17
15
13
20
11
15
12
13
10
Ocelot-Downton
81
Ret
18
Ret
14
9
14
17
18
Ret
DSQ
11
17
14
14
Ret
17
4
82
14
17
18
15
10
Ret
16
Ret
15
Ret
10
16
Ret
Ret
Ret
Ret
11
Warrior-Mercedes
25
10
16
19
17
12
15
19
15
16
18
Ret
19
Ret
17
Ret
Ret
1
26
16
Ret
17
18
Ret
16
18
17
Ret
Ret
Ret
18
15
16
Ret
18
12
Lucas-Peugeot
15
Ret
Ret
EX
Ret
Ret
0
16
13
14
EX
Ret
Ret
Pos
Constructor
Car
No.
AUS

MAL

BRA

RSA

ESP

POR

FRA

GBR

CAN

USA

GER

BEL

ITA

MEX

CHN

JPN

Points

Key
Colour
Result
Gold
Winner
Silver
2nd place
Bronze
3rd place
Green
Points finish
Blue
Non-points finish
Purple
Classified retirement
Did not finish (Ret)
Red
Did not qualify (DNQ)
Black
Disqualified (DSQ)
White
Did not start (DNS)
Race cancelled (C)
Light blue
Practiced only (PO)
Test driver (TD)
Blank
Excluded (EX)
Withdrawn (WD)
Did not participate
External links